You may know Barbara Corcoran from ABC's SHARK TANK but her path to success in real estate is fascinating. She started her business, the Corcoran Group, with a $1000 loan. She later sold the business for $66 million (66 is her lucky number).
She's amazing in real estate but if you learn more about her you discover she's actually a marketing genius. On NPR's podcast, How I Built This with Guy Raz she talks about what she does with her very first commission check—she bought a new coat!
Here's what she said on the podcast with Guy Raz,
"I did the smartest thing in the world. I cashed that commission check and I ran right over to Bergdorf Goodman and I blew it on a new coat. It was the smartest thing I could have done because I dressed like a poor kid from Edgewater. I just looked not the part. But I bought the fanciest damn coat. It was brown and white herringbone with real pearl buttons and real fur. I wore that coat for the next three years. It was the smartest thing I could have done with the money because in it I felt so powerful."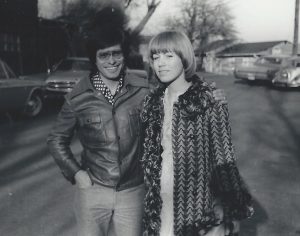 Barbara wearing the coat from Bergdorf's along side her business partner
and boyfriend Ramone Simone. Photo from @BarbaraCorcoran.
I love that story. Simply looking the part is a very powerful marketing tool. I always tell my clients if you want to sell a $100,000 client, then you need to look as if you've already landed many of them. You start here and work backwards to discover how to present yourself in an authentic way that will help you effortlessly close sales.
If you're interested in the entire podcast I mentioned above you can find it here.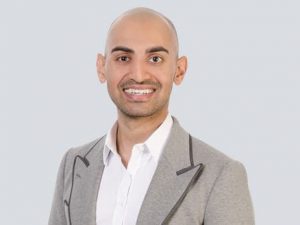 Neil Patel spent $162,301 on clothing. Yup, you read that right. From that investment he made $692,500. Not bad huh.
Neil Patel of Quicksprout.com is a genius at growing your website traffic and a master at making money. He's helped companies like Amazon, NBC, GM, HP, and Viacom grow their revenue. He conducted a year-long experiment to determine whether or not the way you dress impacts your revenue, and he specifically looked at the return on investment.
He tracked everything he did. He changed nothing about his pitch, what he was selling, or the type of business he was after. The only change he made was what he wore. That one change resulted in an increase of sales to the tune of $692,500.
He says that when he dresses nicer, he gets larger business deals. What he wears does create conversations with random people on the street, but his true ROI came from the results he got from dressing nicer in business meetings. As someone who dressed extremely well, he was perceived as someone who was extremely successful—making more people want to be associated with him.
In one year, he spent $162,301 on clothing—and it resulted in a return in investment of $692,500. That's over a 400% return. Not bad, right!? His image gave him an edge. A $692,500 edge, to be exact.
Neil conducted an experiment, but you don't have to. I tell you Neil's story not to encourage you to invest what might feel like an exorbitant amount of money on your wardrobe, but to offer the perspective that when you invest in yourself strategically to create an edge in your business, you will get results.
You can read the post Neil wrote about his experience on his blog.