One of my favorite examples of the power of first impressions comes from the master of showmanship, Elmer Leterman. He is a famous sales tycoon from the 60s. If you can ever get your hands on his book, How Showmanship Sells, be sure to buy it, as it's out of print now.
He says, "The most important sale I ever made in my life started with the influence of a pair of my handmade shoes."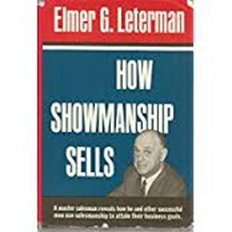 While Elmer was standing in a hotel lobby during an event, a complete stranger came up to him and mentioned that Elmer's shoes were the "handsomest pair of shoes I've ever seen in my life." So Elmer offered to introduce him to his boot maker. At the time, most people spent $8 on shoes, including the self-made millionaire Elmer happened to be talking with. Elmer's shoes, however, cost an unheard of $125.
He goes on to talk about how, throughout the night, this complete stranger would bring friends over to Elmer's table to check out his shoes. Because of his striking shoes, Elmer built a relationship with this gentleman (Mr. Lefcourt) that ultimately helped him launch his insurance career. The connections Mr. Lefcourt introduced him to, bought $1,250,000 in life insurance in one night. Not bad for a night's work in the 1960s. Not bad for a night's work today!
One of my favorite sayings from Elmer Letterman is, "Opportunities are man-made."
Based on a first impression led by a pair of shoes, Elmer created a $1,250,000 opportunity for himself. Not only did he create the opportunity, but he landed it! He purchased those shoes for $125 and made $1,250,000 because of them. Now that's a heck of a return on investment!
I talk more about Elmer Letterman and the power of first impressions in my book, Strategically Suited.
If you don't already have a copy pop over to www.leeheyward.com and have a complimentary copy sent to you or you can purchase one on Amazon.