Every morning you've got to know what the weather is like and what to wear. The Weather Stylist has made it easy for you with their styling suggestions based on your local weather. Simply plug in your zip code and get the local weather report and an ideal otufit solution.
You can get suggestions from the Weather Stylist from their website or by downloading their app from the iTunes store for $1.99.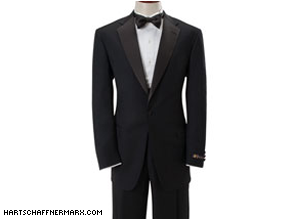 (CNN) – The presidential inauguration party tops the list of formal affairs next January, and President-elect Barack Obama is rumored to be preparing for his big event: He's believed to have ordered a simple and classic black tuxedo by the union-friendly suburban Illinois-designer Hart Schaffner Marx, a stylist to which the president-elect is said to be faithful, according to the Los Angeles Times.
Read the full article
With a different dress code on every invitation, how are you supposed to know what to wear.  Use this guide to decipher attire definitions, or when in doubt ask your host. 
1.  Black Tie indicates formal attire.  Women wear cocktail, long dresses, or dressy  evening separates.  Men wear tuxedos.
2.  Formal usually means the same as Black Tie.  Men might wear a less traditional tux and women will dress as they would for a black tie event.
3.  Black Tie Optional indicates a formal event.  Women wear cocktail, long dresses, or dressy evening separates.  Men may wear a tuxedo or a  dark suit and tie. 
4.  White Tie is the most dressy of evening wear.  Women wear long gowns.  Men wear a dinner jacket with tails and white tie, vest, and shirt.  White Tie is sometimes known as Ultra-formal. 
5.  Semi-Formal requires a cocktail or dressy dress for a woman and dark suit for a man.
6.  Business Formal is the same as semi-formal with the exception that women will often wear a dressy suit.
7.  Informal Attire calls for either semi-formal attire or a slightly less dressy version.
8.  Cocktail Attire is one of the most fun dress codes.  Women wear short, elegant dresses and men wear a dark suit.
9.  Dressy Casual is just a dressier version of casual.  For both men and women steer clear of jeans, shorts, t-shirts, and overall sloppy looks.
10.  Festive Attire usually dictates a semi-formal or informal event, and is seen around the holidays.  This is the time to add appropriate glitz and your holiday spirit.   
For more help deciding what to wear to a party, contact the Charleston Style Concierge or sign up for our monthly ezine full of great style advice.
Imagine waking each morning, walking to your closet, and choosing an outfit that makes you feel great. You put it on, accessorize, and in minutes, you are ready to walk out the door. Imagine you're running late and have a dinner party to attend in one hour. You walk to your closet, stand in front of it, and quickly choose an outfit. Slip on the dress, slide on your stilettos, and you look like a million bucks. 
With a versatile wardrobe, getting dressed can really be this easy.
For those of you who think this is impossible without having a lot of money, let me reassure you, that is not the case.
In fact, creating a versatile wardrobe saves you money, time, and energy. When you have a versatile wardrobe that's created to fit your lifestyle needs, you immediately eliminate all the headaches of trying to find something to wear.  
Having a clear idea of what you have and what you need will prevent you from spending money on items that you'll never wear or wear only once. 
Christian Dior had it right when he said, "It's not money that makes you well dressed, it's understanding."
The key is understanding how to mix and match pieces while creating your own style that fits your lifestyle.  Creating a versatile wardrobe takes time and energy. But it's not as hard as you might think.
In fact,  you probably already have a good start with items you already own. Investing time and thought into creating a wardrobe that serves your lifestyle needs will produce results. And fast.
Feeling fabulous shouldn't be a chore. When you create a versatile wardrobe, you're investing in yourself, in who you want to be in this world, and how you want people to perceive you. So, have some fun with your clothes and feel great every time you walk out the door.
This is an excerpt from my latest style guide, 5 Steps to a Stress-Free and Versatile Wardrobe.  To read more from this great guide sign up for our mailing list at www.charlestonstyleconcierge.com and download 5 Steps to a Stress-Free and Versatile Wardrobe for F*R*E*E.